Mercury Outboard Motor Wiring Harness
Mercury Outboard Internal Engine Harnesses
PLEASE READ THESE DESCRIPTIONS
1 out of 2 people buy the wrong harness. Internal harnesses are about 18 inches long. The internal harnesses go inside the engine cover. In order to continue supplying handmade harnesses for older Mercury engines (at a reasonable price) We must charge a 20% restocking fee on all returns and exchanges of harnesses. Also, shipping charges for replacement harness will be charged. Again... please read the description before you order your harness. Help reduce the error rate! The error rate is so high on harnesses that we considered not selling them at all. If you have any questions contact us: dstiber@aol.com. We will help your select the correct harness. Our application chart below is also very accurate. Check your serial number.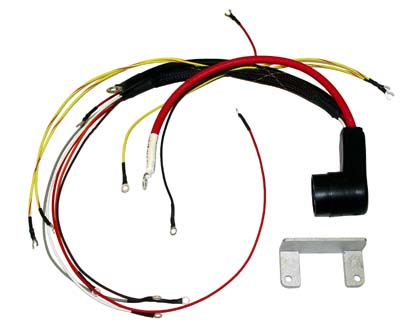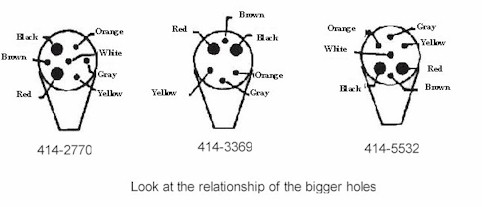 What the above diagram is trying to show you:
All the harnesses orientate themselves the same way if you look at the big pins on the outside. What the V at the bottom of each drawing is showing is what direction the harness turns inside the motor in relationship to the two big terminals. Look at your big plugs and then see if the harness wires turn up, towards the front, or towards the back of the motor.
#2770 heads the wires up. #3369 turns to the back. #5532 turns to the front.
The Mercury outboard boat harness (external) is at bottom of this chart. That is the harness that goes from the engine to the control box by the steering wheel. The external harnesses are about 20 feet long.
HP

YEAR

Serial #

This is the range of numbers. Your serial number will fall between these numbers.

Part #

40 Electric

70-80

4874704-5556229

414-2770

50

1967

2116318-2305100

50

70-75

2858814-4357639

50 Electric

76-79

4357640-5531629

414-3369

65

1967

2119749-2309310

414-2770

65

68-71

2309311-3293183

80

69-77

2559001-4831998

85 4 Cyl.

73-75

3493913-4366801

80 4 Cyl.

78-79

4831999-5582561

414-3369

85 4 Cyl.

76-77

4366802-4831998

414-3369

90 Inline 6

1979

5299506-5594656

414-5532

90

78-79

4845301-5299505

414-2770

95

66-67

1962187-2101742

100

67-69

2641855-2836018

110

66-67

1962462-2103722

115

70-79

4836019-5314655

115

79

5314656-5600966

414-5532

125

68-69

2314956-UP

414-2770

135

70-71

2839369-3293233

140

1972

3239234-3502805

140

78-79

4865678-5327662

140

1979

5327663-5625107

414-5532

150

73-78

3502806-4868997

414-2770

Mercury Outboard Boat Wiring Harness

Boat Harness

Fits all of the above engine harnesses.

474-9550
click here for boat wiring harness instructions