Outboard motor parts for Chrysler, Force, Honda, Mercury, Mariner, MerCruiser, OMC, Johnson, Evinrude, Suzuki and Yamaha outboard motors.
Order Line: 941 209-5747

(9-5 Eastern time)

Questions, and tracking by e-mail only - Dstiber@aol.com
Flat rate shipping. $15.00 ground UPS, $30.00 UPS second day. Free ground UPS above $250.00.
overseas orders $50.00 flat rate by postal service (no tracking)
Know what part you want? click here
Outboardparts.com specializes in after-market parts that meet or exceed the original manufacture's standards. We carry pistons for Chrysler, OMC, Mercury, Johnson, Suzuki, Evinrude, Sea-Doo, Tohatsu, Yamaha, Force outboard motors, Kawasaki Watercraft, Mariner, and Polaris motors and jet ski motors. Our personal watercraft parts include Kawasaki Watercraft, Polaris, Yamaha, Sea-Doo. Starter and trim pumps include trim - tilt units that manufacturers no longer supply. Arco electronics supplies us with outboard motor solenoids, trim and tilt units, rectifiers, trim / tilt motors and starters.
CDI electronics division of Rapair electronics furnishes most of our electrical components. Electrical components from CDI electronics include stators, CD ignitions, voltage regulators, power packs, triggers, ignition modules, CD power packs, coils, wires, and trim pumps.
Our power packs, stators, CD ignition modules, rectifiers and coils are discounted. We offer some rebuilt lower units, crankshafts, complete rebuilt motors and lower units.
Commonly stocked parts are for: Mercury, Chrysler, Force, OMC, Johnson, Evinrude, Suzuki, Honda, Nissan, Tohatsu, Yamaha, MerCruiser outboard motors. We carry pistons, rings, reeds, stators, CDI units, rods, ignitions, gaskets, seals, carburetor kits, and bearings. The cooling section includes impellers and water pumps. The electrical system section includes trim motors, power packs, stators, and coils. We have many lower unit parts.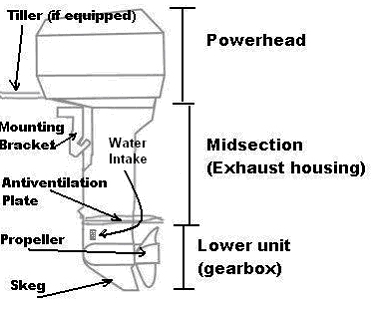 search engine submission - AddMe